Content
INTRODUCTION
Classical international law is the system that protects the rights of sovereign states to be free from external aggression and sets out a framework by which the relationship between states may be regulated. The matters relating to the individuals were considered as the private affairs of each sovereign state having absolute control on its residents. The Hobbestian notion of unrestricted, uncontrolled, inalienable domestic sovereign rights of states encapsulated under treaty of Westphalia continued with minimum changes up to the end of World War II, when after the huge destruction of innocent lives followed by holocaust of Jews made the world community to think that states could not always be relied upon to guarantee the most basic rights of their citizens[1] nor they could be relied upon to hold the individuals accountable for committing core crimes of humanity , and thus an attempt was made to limit the absolute powers of sovereign states in treating their citizens and a new autonomous branch of law came into existence namely International criminal law, which is the combination of that body of laws, norms, and rules which governs the international crimes and their repression, as well as addressing conflict and cooperation between national criminal-law systems.
Development of international criminal law is seen as a significant departure from 'classical' international law which was mainly considered as law created by states for the benefit of states, but tended to ignore the individual as a subject of the law. Thus whereas International law typically imposes responsibilities of States for their benefits , international criminal law imposes responsibilities directly on individuals[2] and punishes violations through international mechanisms. Over a period of time certain crimes were recognized as Jus Cogen crimes imposing Erga Omnis obligation on each state to prevent them and punish the offenders irrespective of their official position. The Judgment of Nuremberg and Tokyo trial laid the foundation of transitional justice whose principles were later on recognized and incorporated under several conventions, treaties and statutes, the key instruments among these are Anti Genocide Convention of 1948, Hague and Geneva conventions on war and warfare 1949 with its two protocols of 1977, Anti Torture convention 1975, Rome statute of International Criminal Court 1998 etc. In true spirit International Criminal Law got momentum only after the judgment of Nuremberg and Tokyo trial wherein it was observed that no body , no state, no head of state, no soldier acting under apparently legal orders has right to violate the most fundamental rights of humanity.[3] Thus international criminal law laid to the "subjection of the totality of international relations to the rule of law"[4]
Though over a period of time human rights instruments have recognized certain rights as the non-derogable[5] but in absence of any effective permanent institution of justice and political difficulty in taking action by security council to deal with the atrocities committed by person under colour of law laid the world community to rethink about the international mechanism of individual protection and it resulted in the birth of International Criminal Court. This permanent international criminal institution has several advantages over its predecessor war tribunals like Nuremberg and Tokyo, ICTY, ICTR etc basically with regard to the issue of several principles of legality and systematic categorization of crimes. It works on the principles of complimentarity and asserts jurisdiction only if the sovereign state is unwilling or unable to prosecute the criminals of humanity genuinely. It does not work as appellate forum from the domestic court.
ASIAN RESPONSE TO ICC
Despite of the fact that ICC works for a great noble cause that is security of the humanity, the Asian response towards it is not commendable. As of March 2010, 111 states are members of the ICC and amongst all these only 9 small Asian states like Afganistan, Bangladesh, Combodia, Cook Islands, Japan , Jordan , Mongolia, South Korea , Tajakistan have accepted its jurisdiction. The major powers of Asia like China, India, Iran, and Pakistan are still not part of the ICC. However it is to be noted that few Asian states like Bahrain, Iran, Israel, Kuwait, Kyrgystan, Oman, Philippiness, Solomon Islands, Syria, Thailand, United Arab Emirates, Uzbekistan and Yemen are though signatories to the ICC statute but have not ratified the statute. The reasons for the Asian states having poor response to the ICC can be analyzed under following objections of the specific states-
CHINESE STAND ON ICC
China has adopted a very negative approach to the human rights developments as it has still not ratified the two basic covenants of human rights protection namely ICCPR and ICESCR. PRC is worldwide famous for its policy of wait and see. Even today it is waiting, seeing and assessing the chances of the success of ICC in context of American strong opposition to ICC through its ASPA and bilateral immunity treaties. The People's Republic of China (PRC) has opposed the ICC, mainly on the following basis tha[6]t:
It goes against the sovereignty of nation states.
The principle of complimentarity gives the court the ability to judge a nation's court system
War crimes jurisdiction covers internal as well as international conflicts
The court's jurisdiction covers peace-timecrimes against humanity.
Inclusion of the crime of aggression weakens the role of security council in this regard.
The prosecutor's right to initiate prosecutions may open the court to political influence[7]
The inclusion of the crime of aggression within the jurisdiction of the ICC weakens the power of the UN Security Council, which is primary body to maintain peace and security.
THE MAIN CAUSES BEHIND THE SCENE, WHY CHINA IS OPPOSING ICC
China has a vested interest in claiming as champion of state sovereignty on several grounds like:-
Due to continuous demands for Tibetan intendance and its mass brutalities therein, PRC see itself vulnerable to ICC jurisdiction. Till before ICC it was able to face any international pressure through its veto power in Security Council which has been now become almost futile under ICC statute. Further unlike the USA, China has also few overseas military commitments,and therefore is not concerned that its troops may one day comeunder International Criminal Court (ICC) jurisdiction. Moreover,China is not in a position to pressurize other countries tosign bilateral agreements as the USA has done because of large number of complaints receiving by international monitoring bodies from several parts of China particularly from the Tibetan Autonomous Region which was acquired by it forcefully through the genocidal methods and in which it is still involved in systematic cultural genocide by encouraging Han settlements and Mandarin Language over indigenous people of Tibet and their Tibetan Language.
China has huge investment in African countries whose law and order situation is very poor and who are expected target of ICC. African countries view Chinese investment as according to their own wishes because -
China investment adheres the"strictly business" policy of noninterference in domestic affairs.
It also offers huge donations without conditions to improve the human rights conditions a marked contrast to Western donors who impose conditions on aid and tie trade to improve human rights issues. Critics say Critics say China's approach has emboldened unsavoury governments, allowing them to ignore Western calls for reform, safe in the knowledge that Beijing will take up the slack.
Chinese close ally's states are overruled by the autocratic governments like Myanmar, North Korea, and Sudan etc. whose acts are sufficient to constitute crime against humanity. Myanmar is constantly involved under Junta rule in cleansing of the indigenous people of Myanmar who are demanding for democracy. According to the Council on Foreign Relations China has significant business interests in Sudan having invested an estimated $10 billion in Sudan since the 1960s, further Sudan provides up to 55 % percent of its total oil export to China, making China Sudan's largest trade partner[8]. All it shows that China have an added interest in keeping the Khartoum government, a government friendly to its economic advances, in power. If present Sudanese governments are overthrown, it is self evident that next government would be unfavorable to the Chinese interest in the pressure from west.
It is also the biggest armed supplier to these countries at a very low price. According to the BBC correspondence from Darfur China sold Sudan antitank mines, ammunition, tanks, helicopters and jet fighters which are currently used by the the Janjaweed, a militia armed by the Sudanese government[9].
Data of Chinese investment in Africa and Sudan: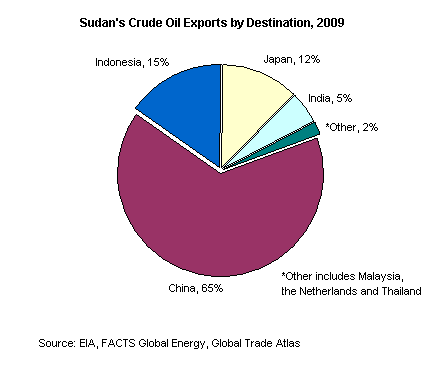 7.China is alleged for involvement in several crimes against humanity which is prohibited under Rome statute on ICC like forced slavery in labour camps; extra judicial killing of political opponents, human rights activists etc. On March 11, the US State Department issued its "2009 Human Rights Report: China (includes Tibet, Hong Kong, and Macau)," calling the People's Republic of China (PRC) "an authoritarian state in which the Chinese Communist Party (CCP) constitutionally is the paramount source of power," practicing: "cultural and religious repression;", extrajudicial killings; torture and coerced confessions of prisoners; use of forced labor, including prison labor; administrative detentions and prolonged illegal ones; forced repatriations of North Koreans; trafficking in persons; "arbitrary or unlawful deprivation of life;" harsh and degrading treatment in prisons; arbitrary interference with privacy, family, home, or correspondence;" harassment of human rights activists; harassment and disbarment of lawyers who defend them etc.
8. More or less the Permanent members are unwilling to compromise with their veto power. China is no exception. By almost eliminating Veto effect ICC has tried to ensure the protection of human rights.
STAND OF PAKISTAN, IRAN, SAUDI ARAB AND OTHER MUSLIM DOMINATED COUNTRIES ON ICC
These countries are more or less dominated by religious ideologies rather than democratic norms There common stand against ICC is more or less based on following ground-
The fact that the Statute does not provide for reservations by countries[10].
Provisional arrest; something which is against their legal system, where a person has to be charged within 24 hours.
The arbitrary nature of the initiations of proceedings.
Lack of immunity for heads of state.
INDIAN STAND ON ICC
India was one of the 20 states who refrained from voting in favour of establishing ICC at the Rome Conference in 1998. Its principal objections were that –
ICC's inherent jurisdiction i.e. the ability to decide whether a state has acted with accordance to justice impinges and interrupts on the sovereignty of India.
India has efficient law enforcement ma­chinery and an active judiciary, so it should not be open to scrutiny by an international institution[11].
Its other objections were for Non-inclusion of terrorism, including externally inspired terrorism and cross border terrorism, within the jurisdiction of the ICC; and
Dismissal of Indian suggestion that use of first nuclear weapons must be consider as a crime.
Its next crucial objection was that Under the Rome statute very wide discretionary power is given in the hand of prosecutor. The prosecutor of ICC has power to issue indictments. Though the Security Council has the right to quash indictment but it is subject to the veto of any permanent Security Council members. Thus for the purpose of revoking an indictment votes of all the permanent members of Security Council needed, which itself is a very typical job particularly of a politically weak country.
However Present Indian stand seems to be contradictory to India's faith in justice and rule of law[12]. ICC would work on the principle of complimentarity that is, primary responsibility for prosecutions lies with the state; the ICC would act only in situations where the state is either unwilling or unable to prosecute the offend­ers. In other words it will step only when the national judicial system is non-existence or unable to deal with the particular crimes covered by the Statutes as the situation was found in former Yugoslavia and Rwanda .The ICC's jurisdiction being residual in nature, the sovereignty of the state is not undermined. Besides it The Indian government has, in 1949, accepted international conventions that set standards for gross violations committed during internal armed conflict, such as Common Article 3 of the four 1949 Geneva Conventions. The ICC Statute is not revolutionary in incorporating standards of behaviour for internal conflict; neither would the provision create a new obligation on India if it were to become a member state of the ICC. India cannot live in a political vacuum. By way of becoming a member of the United Nations, signing and ratifying several important Treaties, and submittingregular reports to UN committees and sub-committees, India has not retained absolute sovereignty anyway. In this age of economic globalisation, we are willing to compromise on our economic sovereignty through privatisation and liberalisation policies. Reluctance to globalization of human rights is therefore without any justi­fication[13].So far as Indian laws are concerned they are neither comprehensive nor sophisticated to deal with all types of human rights violation. They are grossly inadequate to respond to the present human rights situation within the country, and have gaping loopholes. Some of the most serious human rights violations under international law - such as genocide, crimes against humanity, torture, extermination, enforced sterilization, persecution, enforced disappearances and extra-judicial killings. We see that these crimes are committed in India but these crimes are not mentioned under Indian law. Thus If any person kills a large group of people based on their religious identity than that person will be tried only for murder under Indian law, it will be not tried for committing genocide. If We analyze the prevailing Indian legal system particularly in reference to Communal attacks against Christians In 1998-19999(killing of approximately above 50 Christians), Delhi anti Sikh riot between October 31st to November 4th 1984, (2500 people were murdered). Mumbai riot 1992-1993 (1000 Muslims were killed)[14], Gujarat riot of 2002 (790 Muslims and 254 Hindus were killed, 223 more people were reported missing, 61,000 Muslims and 10,000 Hindus fled their homes[15]), we may easily conclude that it has failed to effective prosecute main perpetrator of grave human rights violations. So it should join ICC in interest of Indian people and preventing the politics over genocide.
STAND OF ISRAEL AND PALESTINE ON ICC
Israel has opposed to join the ICC because of the non inclusion of terrorism as crime against humanity and Palestine opposed to join ICC on ground of non activation of crime of aggression and disproportionate attack.
NEPAL AND SRI-LANKA
Till recently these two states were suffering from the separatist and terroristic movements and sees ICC as an obstacle in taking strict action against separatists. However since now they have overcome from the civil war now they are showing positive response towards Joining ICC and it is expected very soon they will ratify ICC statute.
MYANMAR'S STAND ON ICC
Myanmar is currently ruled by the notorious Junta government which is openly found involved in serious violations of the provisions of ICC statute and see it as an instrument to prevent Junta from exercising unrestricted arbitrary powers, this is the reason till Today it has not ratified the ICC statute. Amnesty International's report[16], describes that arbitrary arrest, imprisonment, torture and extra-judicial killings are being committed in a very systematic and brutal way. Ethnic minorities face widespread and systematic human rights violations, such as forced displacement, forced labour, confiscation of land and crops, or persecution for their religious beliefs. On several occasions Myanmar military's concerted offensives against various armed ethnic groups, the civilian population has been seriously affected (some 5,000 Karen, 10,000 Mon and over 30,000 Kokang displaced in 2009 alone). The UN Special Rapporteur for Human Rights in Myanmar, Tomas Ojea Quintana, in his March 2010 report to the UN Human Rights Council, has recommended the UN to consider establishing a Commission of Inquiry into war crimes and crimes against humanity by the Myanmar government. Unlike Western governments, which have tightened sanctions against Myanmar (Burma), China has provided growing political and economic support to the military government in Rangoon because of its military objectives against India and exploitation of its natural resources.
CONCLUSION
Thus we can see that three main states i.e. Japan, Bangladesh, Afghanistan which are parties to the ICC is because of their territorial stability, they are not suffering from separatists movements. However Afghanistan may be a role model for several states who are though suffering from terroristic movement may realise the real potential of ICC in curbing it. If India today has been the member of ICC it would have not to make a political effort at worldwide to bring the actual perpetrators of Taj-Oberoi-CST attack in Mumbai. Bangladesh may be a role model for other Muslim dominated states that prosperity lies in democracy and ICC is an instrument to strengthen it. There is ongoing review of ICC statute in Kampala at Uganda, in context of present ongoing war on terrorism which has disestablished the world order; every powerful state has got opportunity to claim self defence though it is against the existing principle of international law. With hope that a workable definition of terrorism and activation of crimes of aggression will give ICC a greater credibility and support from Asian countries I would like to sum-up my response stating that ICC is not against the state sovereignty but against the person who are abusing the sovereignty hence it is in interest of the people of that state to compel their representatives to ratify ICC. Top down approach i.e. from international organizations as well as down to top approach i.e. from NGO, Civil society's concerted effort is needed because Leader of the state are unwilling to ratify the ICC because their vested interest.
---